Growth Academy English is Taught Different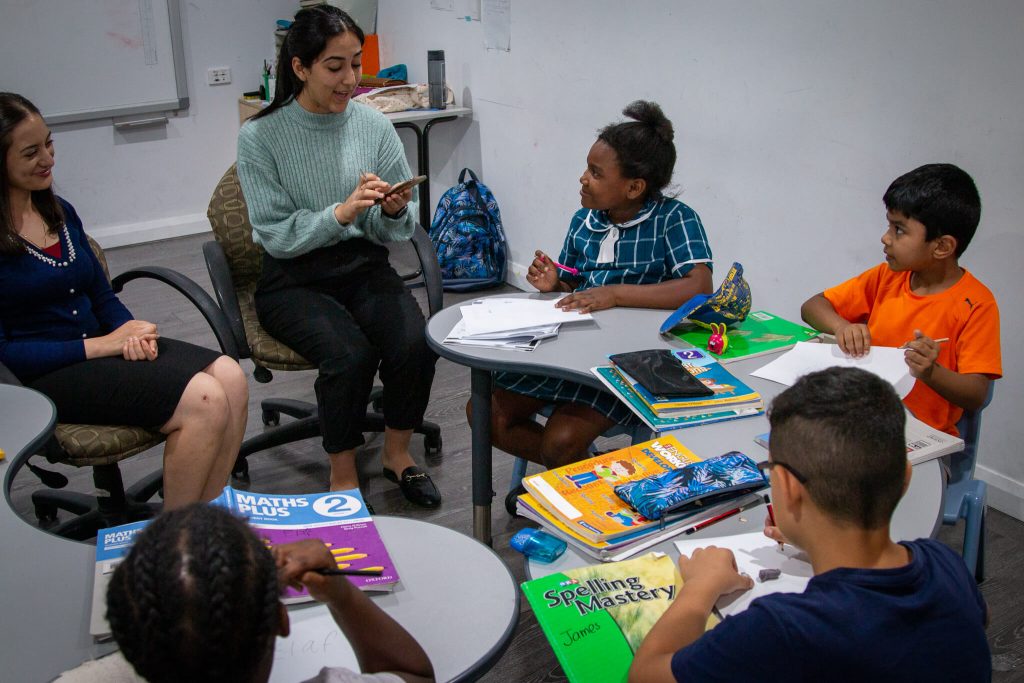 Our Primary English classes are 90-minute sessions and cover the following areas:
A phonics program informed by research on the best practices for teaching spelling and phonics.
Grammar conventions
Explicit teaching to develop literacy skills in advanced comprehension and reading
Develop reading fluency and understanding, develop vocabulary and spelling, speaking and listening skills
Advanced writing techniques, including sentence and sentence building.
Our High School English classes are 90-minute sessions (7-10) or 120-minute sessions (11-12) and assist students in the following areas:
Improved essay writing skills and textual synthesis of prescribed texts.
Creative writing techniques that can be adapted to various stimuli.
A comprehensive understanding of the NESA syllabus outcomes and technical analysis required for Stage 4-6 English.
Various examination techniques when responding to a range of text types.
We teach students how to communicate effectively to articulate their concepts and extend their learning into the real world.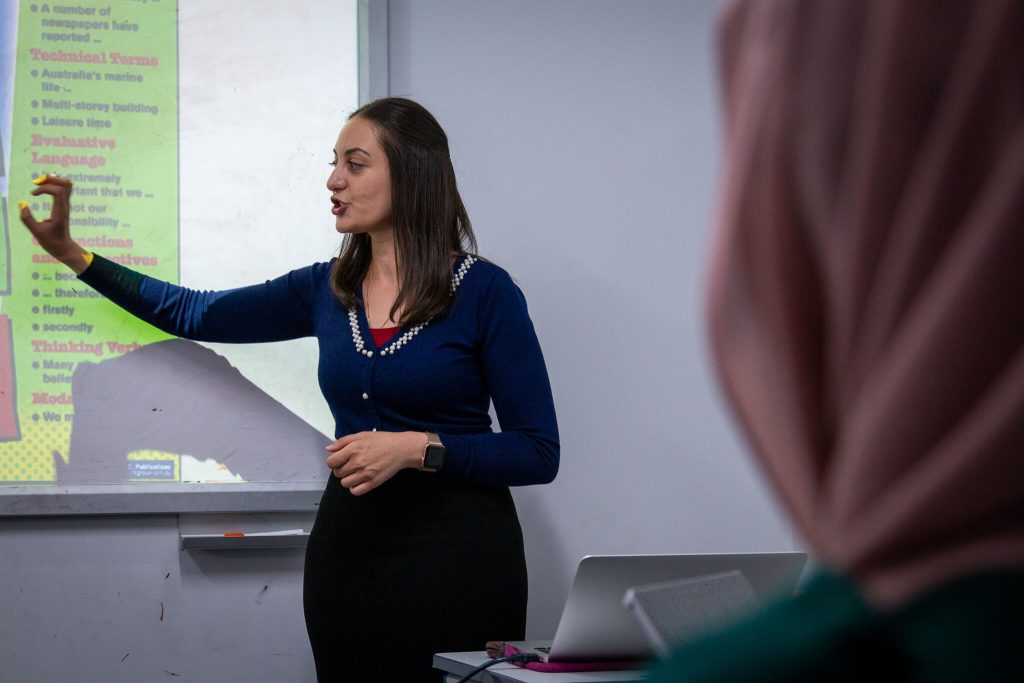 Our tutors explain things clearly – even the hard stuff.
From state-ranking tutors to highly qualified teachers. Our English team goes through extensive training and are passionate about all things English.
Our Educators facilitate insightful discussions to provide students with the most intimate first-hand understanding of school texts and explain the complex relationship dynamics underlying them. We cultivate ideas and people rather than just spoon-feeding answers.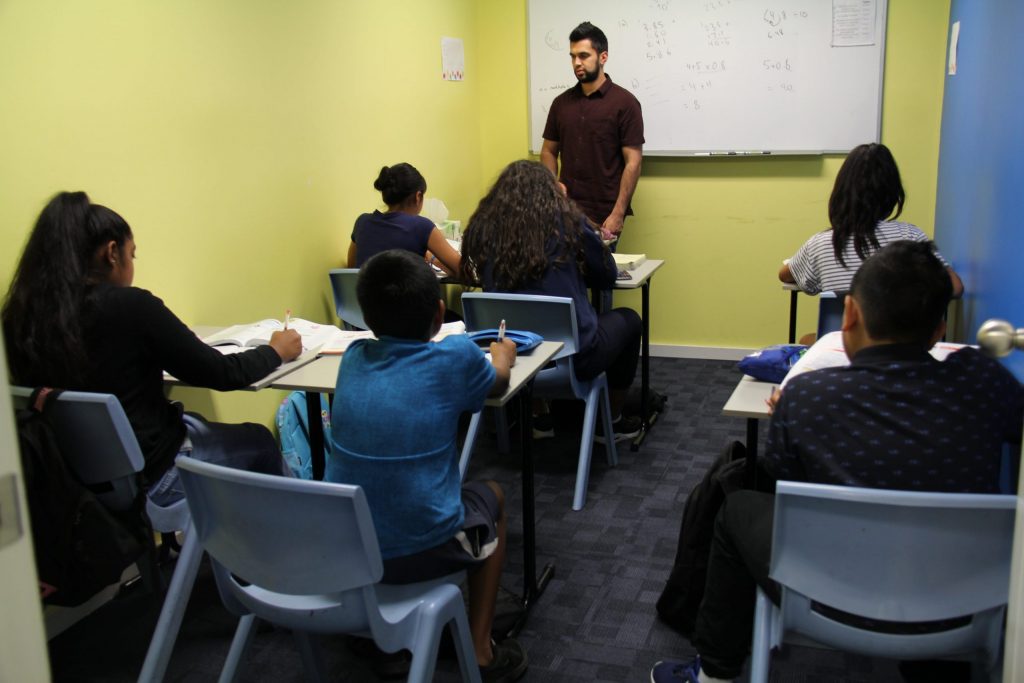 Awesome tutors who make the class engaging and fun. They have definitely helped me prepare for all my maths and english assessments, would highly recommend.
All teachers have been extremely thoughtful and considerate during the transition to online learning making it much easier to continue on with work and not fall behind.
Matthew DeOliveira
Student
My experience at Step Ahead coaching can cleanly be summarised as a positive one. The teaching staff is highly engaging and well equipped with different levels of explanation for each topic covered. I would highly recommend their teaching services to anyone looking to gain assistance in any area of school learning with classes covering Mathematics and English all the way through to Chemistry and Physics, all of which I actually attended myself. Definitely turned my marks around and helped increase my dedication to my studies.
At Step Ahead, I found the culture that was exemplified there did indeed match their name. With emphasis on dedication and consistency, continual occurrence of workshops; and combination of excellent tutoring methods and resources, I ultimately found that my approach towards studying effectively benefited in a holistic manner. Would recommend to anyone that is in need of effective support for their studies
Step Ahead provides education of exceptional quality and is heavily focused on student development. The extra workshop classes, in conjunction with the weekly sessions, definitely enhanced my overall academic performance. The tutors are highly motivating and work wholeheartedly to encourage students in reaching their full potential. The small class structure allows for individualised feedback, as well as maintaining an uplifting and motivating atmosphere. Would definitely recommend!
Step Ahead is by far the best tutoring center in Sydney. They have the best staff who assist you in a variety of subjects. I have gone to Step Ahead ever since I was in year 2 and now I am in my first year in university, doing something I have always wanted, but thought it was too difficult to achieve. Coming to Step Ahead allows you to make out of school connections, with different types of students and create new friendships. Thank you Step Ahead. Without your enduring support, I wouldn't have gotten this far!
Helped me out from year 10 all the way till year 12 in regards to English and maths, honestly wouldn't have gotten the mark that I've gotten if it wasn't for the tutors provided. Great tutors and even better people overall! Thank you Step Ahead. Without your enduring support, I wouldn't have gotten this far!
Step Ahead Coaching were a major factor in my success during my HSC period. The teachers are very helpful and encouraging of all students, the atmosphere is inviting for all students to engage in the content and with each other to assist and teach. I would highly recommend Step Ahead Coaching to students going through their own HSC as it will provide an extra resource in order to gain the best results possible. Thank you Step Ahead. Without your enduring support, I wouldn't have gotten this far!