A Focus on Mastery Means Everyone Learns
Does your child struggle with writing good quality texts at school? Do they constantly make grammatical errors? Do you wish that your child could read more fluently and with better expression? Does your child struggle with answering comprehension questions? If you answered 'yes' to any of those questions then Reading Mastery will definitely assist your child.
If you have answered 'no' to the questions above, this program is still for your child! If your child loves reading and excels at creative writing then Reading Mastery can take your child to the next level. They will enjoy reading rich literature, learn new vocabulary, be challenged with comprehension questions at varying levels and perfect the art of reading aloud.
Reading Mastery is a complete reading program which lays all the necessary foundations of Reading. It uses the Direct Instruction method to help students master essential decoding and comprehension skills.
The program places particular emphasis on teaching thinking skills and helping students acquire background knowledge. Program materials include fully scripted lessons to guide teachers through carefully constructed instructional steps – modelling new content, providing guided practice, offering individualized practice and applying skills.
It also utilizes a special spelling system designed to assist students identify letter sounds. Signals and group responses are used to keep students involved, help them stay on task and help with lesson pacing. Teachers assess student performance throughout the program, and struggling students receive practice through remedial exercises. A typical 75-minute lesson includes seven to nine short activities encompassing multiple strands of content including: Phonemic Awareness, Letter-Sound Correspondence, Sounding Out of Words, Word Recognition, Vocabulary, Oral Reading Fluency & Comprehension.
Through this program, students learn new vocabulary and their meanings which assists them to build their own vocabulary. They also are guided by the teacher in reading a various array of enriching texts. Throughout the guided reading process, students learn how to read with fluency, pace, intonation and expression.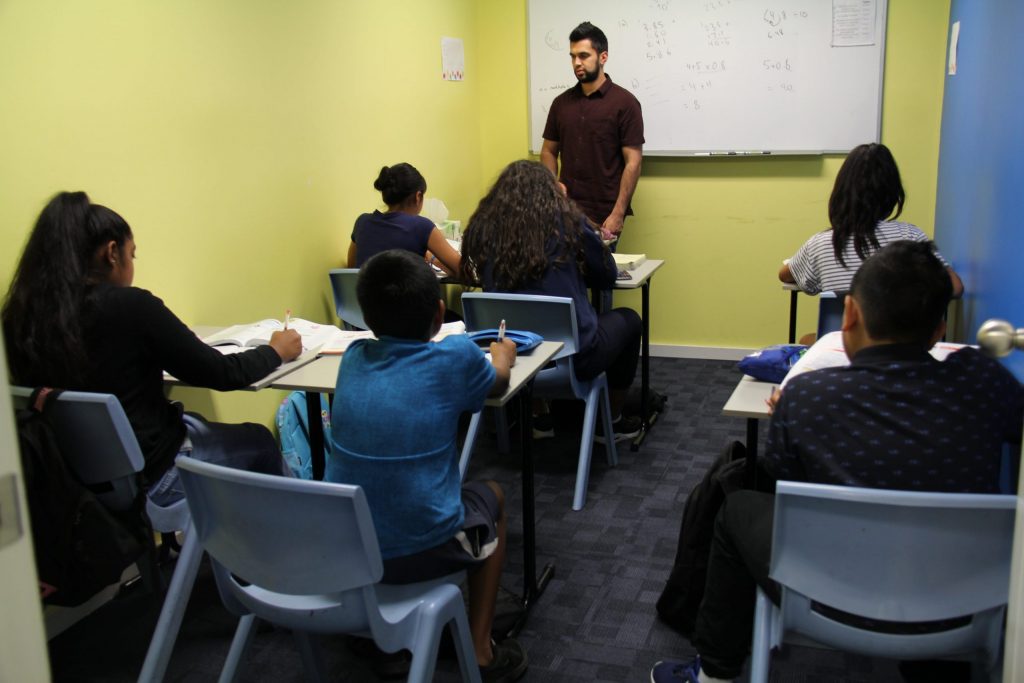 Throughout the reading of the text, the teacher will stop the students to ask them oral questions. They then practise an individual reading with their partner. This is followed by comprehension questions where students must refer back to the text. The 3 types of questioning levels are used: literal (finding the answer directly in the text), inferential (using their own knowledge combined with the text) and applied (relating it to real life).
There are also comprehension skills intertwined within the passages such as cause and effect, figurative language, fact and opinion etc.
This is all concluded with a writing task where students use all of the vocabulary, grammar and knowledge of the stories being read to create a text of their own.
Every Reading Mastery lesson is also introduced with a spelling component (similar to Spelling Mastery).
In a 75-minute lesson of Reading Mastery your child has practised Spelling, Reading, Writing, Grammar, Comprehension, Handwriting, Speaking and Listening. This fun quick-paced program is loved by all students and it develops not only a love of reading but of focus and hard work in the classroom which will translate back into their academic life.
Awesome tutors who make the class engaging and fun. They have definitely helped me prepare for all my maths and english assessments, would highly recommend.
All teachers have been extremely thoughtful and considerate during the transition to online learning making it much easier to continue on with work and not fall behind.
Matthew DeOliveira
Student
My experience at Step Ahead coaching can cleanly be summarised as a positive one. The teaching staff is highly engaging and well equipped with different levels of explanation for each topic covered. I would highly recommend their teaching services to anyone looking to gain assistance in any area of school learning with classes covering Mathematics and English all the way through to Chemistry and Physics, all of which I actually attended myself. Definitely turned my marks around and helped increase my dedication to my studies.
At Step Ahead, I found the culture that was exemplified there did indeed match their name. With emphasis on dedication and consistency, continual occurrence of workshops; and combination of excellent tutoring methods and resources, I ultimately found that my approach towards studying effectively benefited in a holistic manner. Would recommend to anyone that is in need of effective support for their studies
Step Ahead provides education of exceptional quality and is heavily focused on student development. The extra workshop classes, in conjunction with the weekly sessions, definitely enhanced my overall academic performance. The tutors are highly motivating and work wholeheartedly to encourage students in reaching their full potential. The small class structure allows for individualised feedback, as well as maintaining an uplifting and motivating atmosphere. Would definitely recommend!
Step Ahead is by far the best tutoring center in Sydney. They have the best staff who assist you in a variety of subjects. I have gone to Step Ahead ever since I was in year 2 and now I am in my first year in university, doing something I have always wanted, but thought it was too difficult to achieve. Coming to Step Ahead allows you to make out of school connections, with different types of students and create new friendships. Thank you Step Ahead. Without your enduring support, I wouldn't have gotten this far!
Helped me out from year 10 all the way till year 12 in regards to English and maths, honestly wouldn't have gotten the mark that I've gotten if it wasn't for the tutors provided. Great tutors and even better people overall! Thank you Step Ahead. Without your enduring support, I wouldn't have gotten this far!
Step Ahead Coaching were a major factor in my success during my HSC period. The teachers are very helpful and encouraging of all students, the atmosphere is inviting for all students to engage in the content and with each other to assist and teach. I would highly recommend Step Ahead Coaching to students going through their own HSC as it will provide an extra resource in order to gain the best results possible. Thank you Step Ahead. Without your enduring support, I wouldn't have gotten this far!
Book a FREE, no obligation student assessment!
Step Ahead Coaching gives students the instruction and support they need in a stress-free environment conducive to learning. Send your child to a centre that puts the student first. Help your child gain a step ahead.